Solar PV Vegetation Management Strategies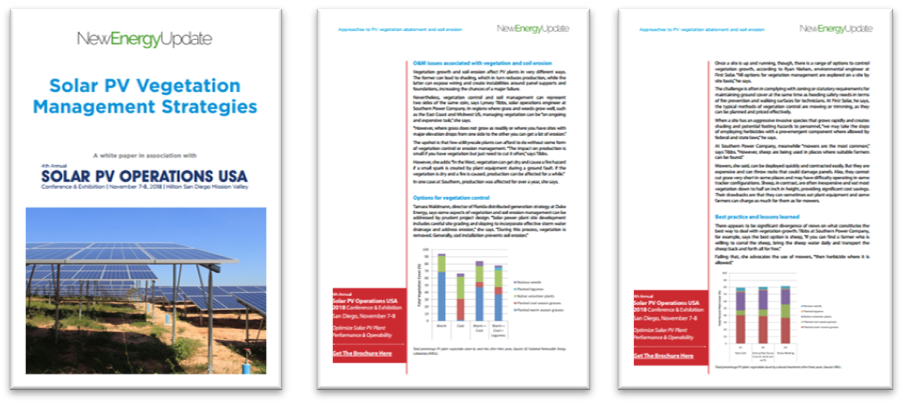 Download this whitepaper by completing this form >>>
Learn what industry experts are saying about O&M Considerations for Solar Plus Battery Storage Projects in this exclusive whitepaper…
What you will learn…
The business case for PV-Plus-Storage
The O&M picture
Emerging trends
Outlook and conclusions
Executive summary
Cost-effective vegetation control measures, grazing solutions and front-end civil design considerations are all a significant part of utility-scale PV plant operations and maintenance (O&M) in the US. At the same time, though, these topics are often overlooked or sidelined when it comes to O&M strategies. Compared to, say, panel reliability or inverter replacement, there is relatively little best practice established in areas such as grass control or soil management.
To address this dearth of knowledge and preview one of the major areas for discussion at the Solar PV Operations USA 2018 conference on November 7 and 8, at the Hilton San Diego Mission Valley Hotel, California, this white paper provides a brief survey of the topic.
Download this whitepaper by completing this form >>>
New Energy Update is part of FCBI Energy Ltd, Registered in England and Wales - company registered number 09823824 - 7-9 Fashion Street, London, E1 6PX, UK. © 2016 FCBI Energy Ltd. All Rights Reserved.