New Energy Update is part of FCBI Energy Ltd, Registered in England and Wales - company registered number 09823824 - 7-9 Fashion Street, London, E1 6PX, UK. © 2016 FCBI Energy Ltd.
All Rights Reserved.
Floating Offshore Wind 2018 (co-located with Offshore Wind Europe) will bring together both visionaries and leaders who will deliver their thoughts, ideas and advice for all companies in any walk of the floating offshore wind value chain.

Download your copy of the event brochure now and use the discount code to receive £50 off your pass >>>
Outstanding C-suite, Senior Manager & Managerial Level Speakers from Floating Projects Include:

Download your copy of the event brochure now and use the discount code to receive £50 off your pass >>>
At Floating Offshore Wind, you'll get cutting edge insight on:
Case Study Analysis of Existing Projects: explore how current floating offshore wind projects are navigating infrastructural demands and where lessons have been learned


Achieve Streamlined Production: Hear how to produce, assemble and install 30+ floating devices and consider the impacts on quayside, logistics and marine operations
Risk, Finance and LCOE: Explore key cost reduction measures to de-risk your project and evaluate what support is in place to commercialise floating offshore wind
Optimise the Global Supply Chain: Map out where the best technology in moorings, anchors, platforms, and other major components will come from to meet your needs
Lessons Learned From Other Industries: Reduce risk and increase reliability with lessons learned from Oil & Gas and Fixed Offshore Wind including; supply chain, O&M, and finance
Download your copy of the event brochure now and use the discount code to receive £50 off your pass >>>
At Floating Offshore Wind you will:

Network with 500+ Offshore Wind Execs: you won't get lost in a crowd - you WILL do business with ALL of the active players, from developers, contractors, financiers and suppliers


Secure Market Share - Find out about the floating offshore wind development plans and all the projects that are due or taking place


Build Partnerships and Form Consortiums - Meet serious industry collaborators from Europe and enter into the floating offshore wind market as a developer, investor contractor or supplier
Developers and Operators already confirmed include: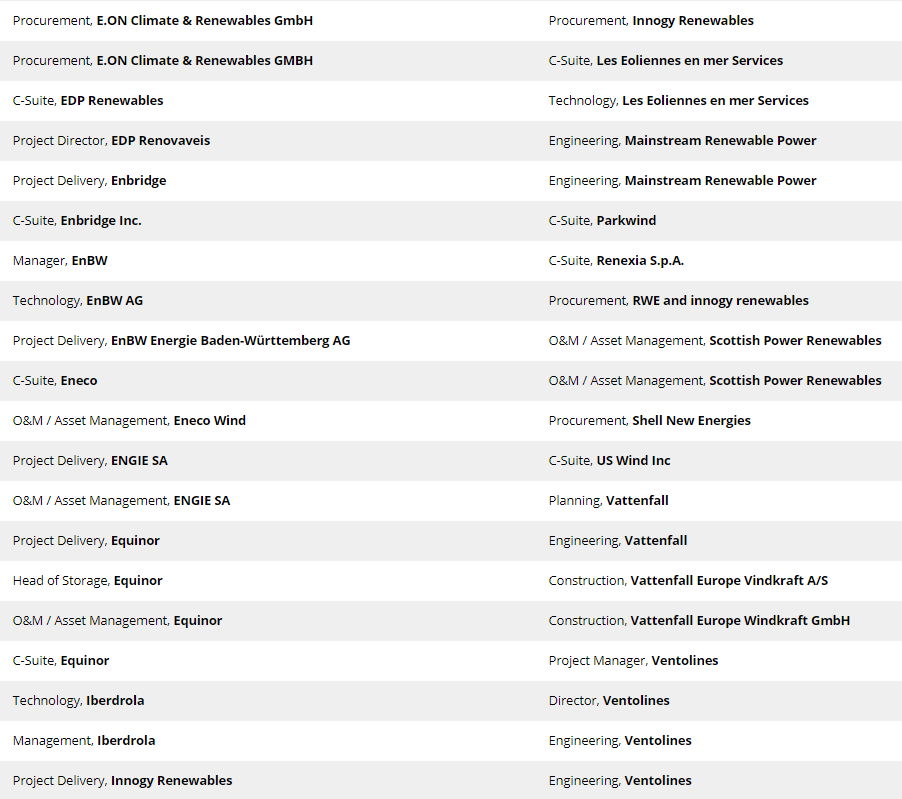 Best regards,
ORDER THE 2019 EVENT BROCHURE HERE
Deliver Commercial Floating Wind Projects
Manage Risk > Secure Finance > Lower LCOE