New Energy Update is part of FCBI Energy Ltd, Registered in England and Wales - company registered number 09823824 - 7-9 Fashion Street, London, E1 6PX, UK. © 2016 FCBI Energy Ltd.
All Rights Reserved.
This whitepaper looks at offshore wind's global opportunities, as demand for new opportunities and new frontiers continues to grow.
We gathered insights from key industry experts, including: SSE, New Power Ventures, MAKE Consulting and WindEurope to provide you with:
An understanding of the growth potential in mature markets so you can plan to diversify your portfolio and position your business for maximised revenue generation
Analysis of emerging hotspots for offshore wind, helping you keep up to date with the hottest areas of development
Information on how developers, OEMs and the supply chain could expect the market landscape to change according to various hotspots picking up, at home and afar
Access the paper now using the form on the right >>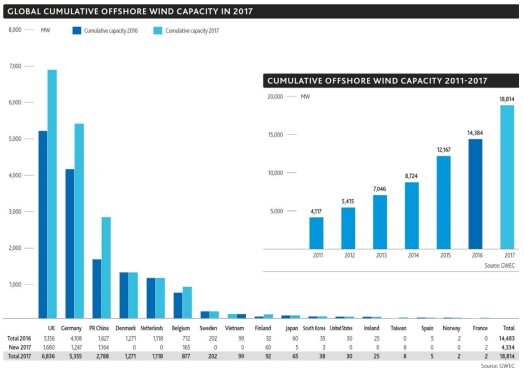 *Image taken from this whitepaper: Global cumulative offshore wind capacity in 2017. Source: GWEC.
Access the paper now using the form on the right >>
Please let me know if you have any feedback.
Kind regards,
Ben
MARKET REPORT ON OFFSHORE WIND DEVELOPMENT HOTSPOTS IN EUROPE, TAIWAN AND THE USA
Download the Whitepaper Here to Receive Valuable Insights from: