Introducing the ALL NEW 4th Edition of Solar PV Operations USA

New Energy Update is part of FCBI Energy Ltd, Registered in England and Wales - company registered number 09823824 - 7-9 Fashion Street, London, E1 6PX, UK. © 2016 FCBI Energy Ltd. All Rights Reserved.
Complete this form to get the brochure

Just confirm your details below to be sent the full brochure PDF by email

>>> Request the 2018 event brochure by completing this form on the right >>>
Join 500+ professionals at the 4th Solar PV Operations USA 2018 conference in San Diego to learn smarter asset management, operations and maintenance strategies to maximize the lifetime value of your solar PV assets.
As a delegate, you'll have the opportunity to network with ALL the solar PV asset owners and operators in the US market and attend multiple conference tracks focused on financial and technical asset management and O&M.
Top PV experts will explain how to achieve superior PV operations…



What you will achieve at the Solar PV Operations USA 2018 conference…
NETWORK WITH 500+ SOLAR PV EXEC'S
Meet the leaders who develop, own, operate and service the majority of the USA's PV assets.


DELIVER SUPERIOR SOLAR PV ASSET MANAGEMENT
Make better investment decisions to protect the long-term value of your PV assets.


REDUCE SOLAR PV O&M COST
Receive case study examples of PV O&M strategy development along with advanced tools and techniques to reduce O&M costs.


MEET ALL THE US SOLAR PV OWNER/OPERATORS
Understand who they are, what projects they are planning, and upcoming opportunities for partnerships and O&M service contracts.

All-new Asset Management and O&M topics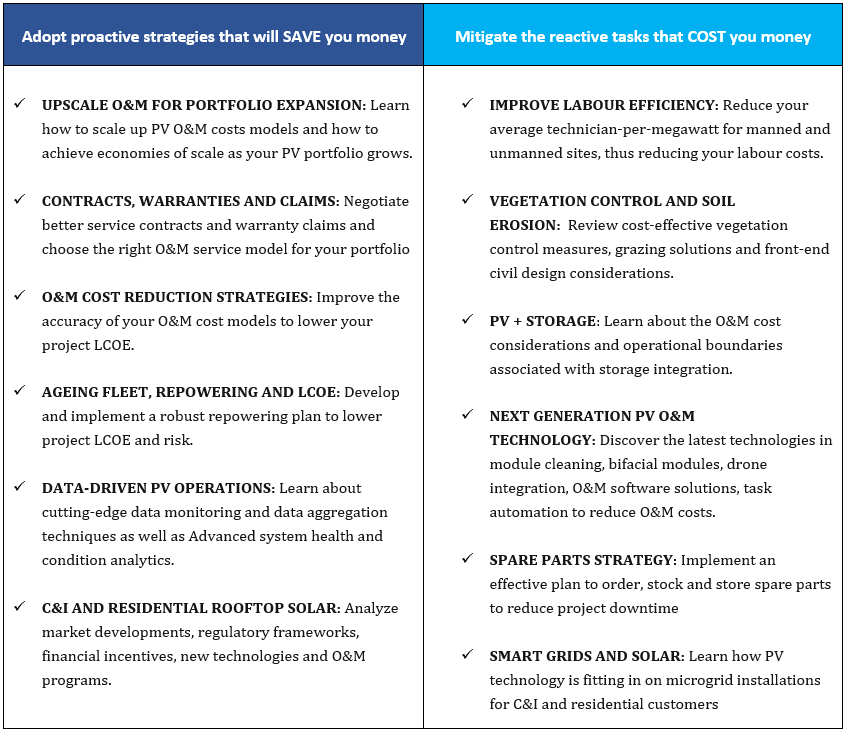 Best regards,