Carve out your 5+ year business strategy for operational assets
For 10 years, Wind Dallas has focused on ensuring you get the latest in cutting edge trends, peer insights, best practice and lessons learned that will help you overcome your business' most pressing challenges.
The 11th edition will feature the most ambitious agenda to date with sessions that both cover traditional challenges, but go beyond the scope of just Wind O&M to help lower LCOE, increase AEP and boost asset profitability.
With 600 attendees in 2018, and an expected 700+ in 2019, Wind Dallas is the premier gathering for Operations, Maintenance, Asset Management Strategy teams in power generators across North America.
Request your event brochure to stay in the loop with event developments >>>>
Attendees in 2017 included: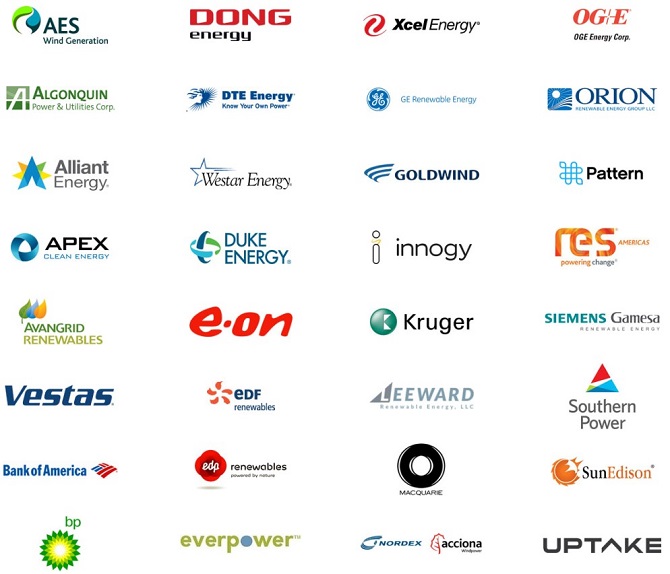 Request your event brochure to stay in the loop with event developments >>>>
Get sent full details about Wind Dallas, including:
What You'll Learn from Cutting Edge Industry Case Studies and Panel discussions: Uncover the key challenges and opportunities for companies involved in O&M and Asset Management. Discover how to take your business to the next level with new strategies, ideas, products and services
Who You'll Meet Among 700+ Executive Attendees: Network with the pioneers of connected insurance. Shake hands with the trailblazers, tasked with delivering the organisation of the future
Even greater opportunities for owners to attend: We've launched our wind owner passes, and referrals programs to ensure that wind owners can bring key decision makers from across departments and fields of expertise. As a result, we have a record number of attendees from niche backgrounds in gearboxes, drivetrain, blades, inspections, asset management and BOP
Peer-to-peer Roundtables & Troubleshooting: Engage, compare and advise your peers from across the global wind operations industry on key topics to ensure you can flesh out key challenges and uncover previously hidden solutions
How To Do Business Onsite: Get a sneak preview of the awesome networking activities from roundtables, workshops, a dedicated VIP lounge, and don't forget the drinks parties
Request your event brochure to stay in the loop with event developments >>>>
Enter your details on the right to keep up to date with all conference developments.
Kind regards,
Jon Harman
New Energy Update is part of FCBI Energy Ltd, Registered in England and Wales - company registered number 09823824 - 7-9 Fashion Street, London, E1 6PX, UK. © 2016 FCBI Energy Ltd. All Rights Reserved.
Request your copy of the
Wind Dallas Brochure

Complete your details below to request the full event brochure pdf, which includes:

Full speaker line-up and who you will meet
The complete agenda and key themes to be discussed
Networking opportunities throughout the three days
Information on group registration discounts and pricing
Exclusive discount only with the brochure