Achieve O&M Excellence at Dallas 2019

Optimize Assets, Enhance Performance, Prevent Downtime to Slash OPEX

The 11th Annual Wind Operations 2019 conference and exhibition will return to Dallas on April 16-17. Wind Operations Dallas is America's largest business-focused conference and exhibition for the onshore O&M community.

Download your copy of the event brochure now >>>
Our largest ever owner/IPP audience, some of the confirmed attendees: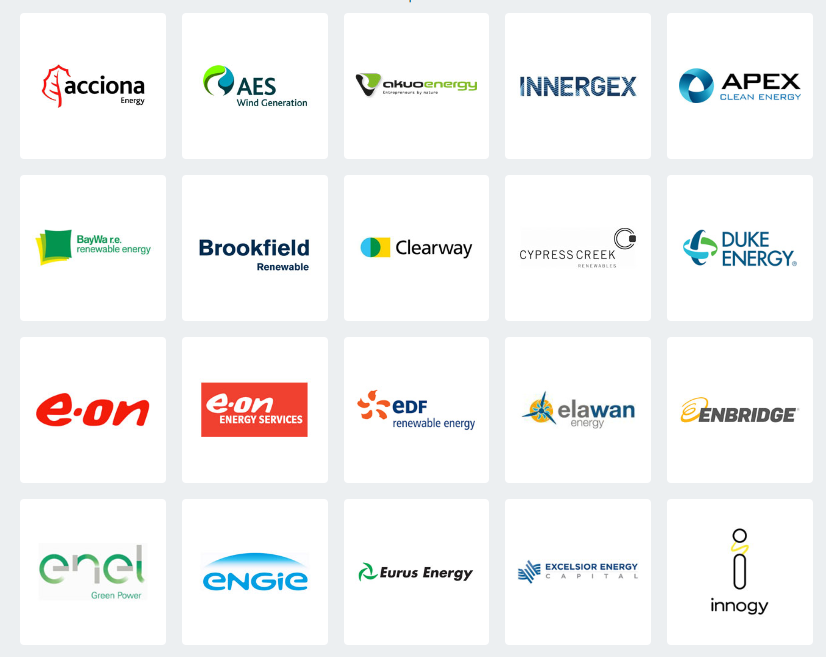 Download your copy of the event brochure now >>>
Learn, Discuss, Implement - Our Conference vs. Tradeshow Pledge:
This is NOT a tradeshow: you WILL be part a more focused crowd, you'll make the connections that matter, and hear case study led presentations, and meet service provider that can solve your challenges.
This IS a strategy conference: you WILL be with your peers, learning new offshore wind strategies, having meetings to secure investment and partnerships and putting together plans for delivering profits in the next era of your business
Hear from Dallas 2018 Attendees
New Energy Update is part of FCBI Energy Ltd, Registered in England and Wales - company registered number 09823824 - 7-9 Fashion Street, London, E1 6PX, UK. © 2016 FCBI Energy Ltd. All Rights Reserved.
DOWNLOAD THE 2019 EVENT BROCHURE HERE



Key info:
700+ Attendees
60% Owners/IPP
75+ Exhibitors
New Energy Storage Track


Worth noting for 2019:
Our Largest Owner/IPP Audience EVER:
A staggering 60% of our audience come from the owner/operators and with 40 companies sending teams of up to 15 attendees each you'll meet current clients and potential new ones.
Owners confirmed include: NextEra Energy, Invenergy, E.ON, Duke Energy, Leeward Energy, APEX Clean Energy, BayWa r.e., Acciona Energy USA, BlackRock Real Assets, Excelsior Energy Capital, Shell New Energies, AES Wind, Innergex, Clearway, Enbridge, EDF, Enel, Innogy and so many more.
Peer-to-peer Roundtables & Troubleshooting:
Engage, compare and advise your peers from across the global wind operations industry on key topics to ensure you can flesh out key challenges and uncover previously hidden solutions.
CHECK OUT THE WORKSHOP & AGENDA PROGRAM
Lead Retrieval Tools for Exhibitors:
To ensure that the latest innovations are seen by the decision makers that matter most, we've given all exhibitors the opportunity to collect key customer and prospective client information using a dedicated lead retrieval service.
Six great benefits of attending Wind Operations Dallas 2019:
Owner/Operator focus: Cost reduction approaches on O&M Solutions – Blades, gearboxes, BOP – as well as detailed insight data and automation will give you the tools to cost effectively operate assets
Onshore Wind focus: Hear approaches to drive down O&M costs across your portfolio as well as to understand in the field applications of innovations and strategies
Workshop debates, Chatham house rules: You won't just be talked at – you'll have the chance to engage with your peers and discuss ideas with both developers and operators to execute on return to the office
100+ Speakers: Hear where we are headed as an industry, then get down into the technicalities of the job in hand, all delivered by fresh speakers with new material to share
700+ Global Wind Executive Attendees: Don't get lost in a crowd - you WILL do business with ALL the active players, from owners, OEMs, ISPs and the wider supply chain
See you at the conference!
Many thanks,
Ben