New Energy Update is part of FCBI Energy Ltd, Registered in England and Wales - company registered number 09823824 - 7-9 Fashion Street, London, E1 6PX, UK.
© 2016 FCBI Energy Ltd. All Rights Reserved. | Terms and conditions
What to do With Your Aging Portfolio – A Guide to Lifetime Extension
Owners, operators and service providers are looking at ways to assess the residual useful life of wind farm assets and methods to extract the maximum value from an ageing fleet.
In this guide, you will:
Discover an overview of the system-wide analysis that must be undertaken to determine economic viability of lifetime extension.
Learn about the next steps once it has been decided that your asset life can be extended.
Asses the future growth and increasing popularity of the lifetime extension option as a way to maximise returns on your portfolio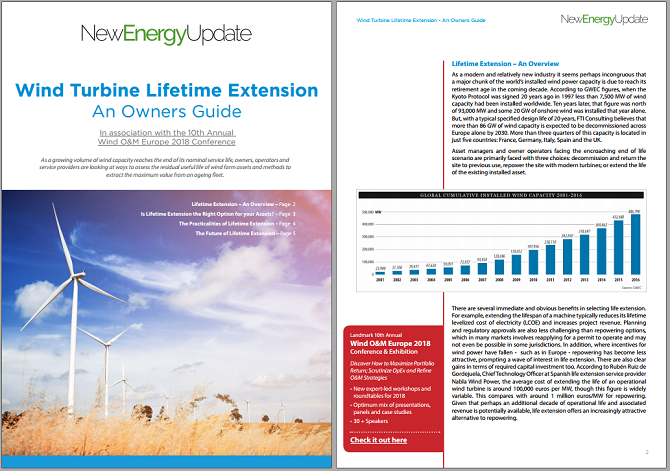 >>> Enter your details to the right to receive a copy of our exclusively commissioned guide >>>
Please let me know if you have any feedback.
Kind regards,