Complete the form to download the brochure >>>
The 3rd US Offshore Wind 2018 Conference & Exhibition is the leading event for the Offshore Wind Industry. By downloading the official event brochure you'll receive:
Conference Agenda: Full overview of the hottest topics that will be discussed in 2018 including our world leading speaker line up
Exhibition Floor Plan: Take a look at the floorplan for this year's knockout exhibition! Featuring 25+ innovative exhibitors and live demo areas.
Specialist Events Program: It's not just about the conference room and expo floor. Take a look at our specialist events program including our plenary, including C-level Keynotes, Project Pipeline, Financing, Permitting, Construction, Installation, Marine Logistics) and two NEW breakout sessions to choose from: Supply Chain Opportunities and Commercializing Floating Wind Farms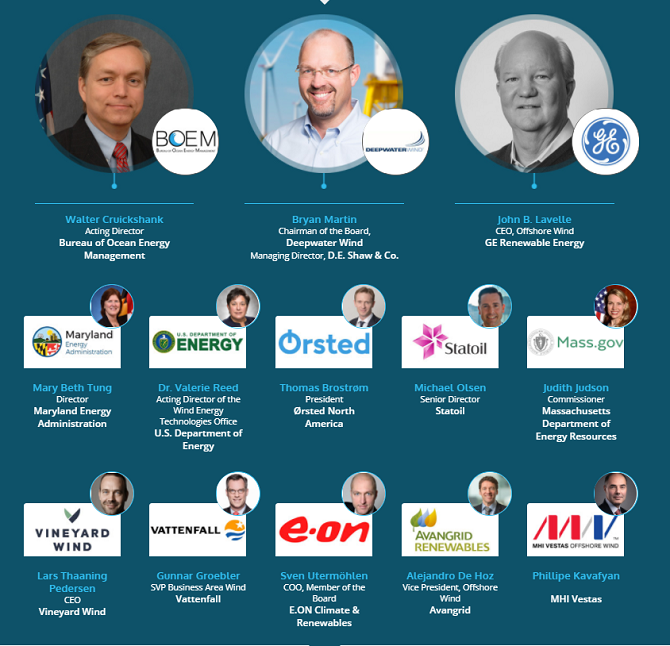 Join ground-breaking discussions with key wind players
MARKET STRUCTURE AND EVOLUTION
Listen to C-level offshore wind leaders answer the big questions about how the US offshore wind market going to shake out in terms of market structure; the road to <10 cents kWh; and funding structures unique to US offshore wind.
US OFFSHORE WIND DEVELOPMENT PIPELINE
Analyze the US offshore wind development pipeline in a series of state by state panel discussions, providing you with up-to-date information about Wind Energy Areas, state plans and support mechanisms to help finance and develop new offshore wind projects.
PROJECT PLANNING & EXECUTION FOR COMMERCIAL DEPLOYMENT
Hear the latest on FEDERAL offshore wind area lease planning activities; how to manage stakeholders and reduce time to permitting.
SUPPLY CHAIN, INFRASTRUCTURE AND VESSEL CAPABILITIES
Learn how businesses and US states are taking steps to build the infrastructure & vessel capabilities to deliver reliable offshore wind projects.
COST REDUCTION TECHNOLOGY ROADMAP
Discover which technologies will be required deliver the US project pipeline, including wind turbines and fixed/floating foundations; and what role technologies will play in reducing project LCOE in the US.
COMMERCIALIZING FLOATING WIND TURBINES
Find out what technology and project developers are doing to commercialize floating turbines and the opportunities for floating project developments in the US. Key topics include The Business Case for Floating Turbines in the US, Regulatory Drivers, Qualifying Floating Technology, and Env. Impact Assessment.
OPPORTUNITIES FOR OIL AND GAS IN THE US OFFSHORE WIND SUPPLY CHAIN
Plan to diversify into the offshore wind supply chain by joining the dedicated Supply Chain breakout session to review upcoming projects and commercial opportunities against your capabilities. You'll learn about layers of the supply chain, where your company fits in and who your customers are.

What you will achieve at #USOW18
SECURE MARKET SHARE
Find out about states' offshore wind development plans and all the projects that are due or taking place
BUILD PARTNERSHIPS AND JOINT VENTURES
Meet serious industry collaborators from the USA and Europe and enter into the US offshore wind market as a developer, contractor or supplier
MEET THE US OFFSHORE WIND LEASEHOLDERS AND GOVERNMENT OFFICIALS
Understand who they are, what projects they are planning, and upcoming opportunities for partnerships and supply contracts
NETWORK WITH 1000+ OFFSHORE WIND EXEC'S
You will do business with ALL of the active players, from governments, developers, contractors, financiers and suppliers

Delegate Snapshot: Who's Already Confirmed to Attend:
| | |
| --- | --- |
| Bureau of Ocean Energy Management | Acting Director |
| ACS Industrial North America | CEO |
| LeeWay Marine | CEO |
| Magellan Wind | CEO |
| MassCEC | CEO |
| Offshore Heavy Transport | CEO |
| Patriot Offshore Inc. | CEO |
| Seajacks | CEO |
| Seatower AS | CEO |
| Trident Winds | CEO |
| Uptime | CEO |
| Vineyard Wind | CEO |
| GE Renewable Energy | CEO |
| MHI Vestas | CEO |
| PNE Wind USA, Inc. | Chairman & CEO |
| Deepwater Wind | Chairman of Board |
| E.ON Climate & Renewables | COO |
| EDP Renewables | COO Offshore & Chief Development Officer |

Meet this year's sponsors and exhibitors:


Adam Minkley
Project Director
US Offshore Wind 2018
New Energy Update


E. adam@newenergyupdate.com
T. +44 (0)207 375 7239 (Direct)
New Energy Update is part of FCBI Energy Ltd, Registered in England and Wales - company registered number 09823824 - 7-9 Fashion Street, London, E1 6PX, UK. © 2016 FCBI Energy Ltd. All Rights Reserved.
View the brochure now
Just confirm your details below to be sent the full brochure pdf by email…
3rd US Offshore Wind 2018 Brochure
Conference testimonials:

"Excellent opportunity to meet, inform, and learn from industry professionals"

Keith McDermott, Commercial Director, Ecosse Subsea Systems

"The time has come for offshore wind in the USA"

Frederick Morris Director (Energy & Infrastructure), KPMG in the U.S.

"Very high turnout and comprehensive set of sessions"

Partha Vasudev, Director, UK Green Investment Bank

"Very good networking and content discussions"

Sven Utermöhlen, COO, E.ON Climate & Renewables