Get the Brochure for the Wind O&M Canada 2017 here!

Join us at Wind Operations & Maintenance Canada 2017 for a ground-breaking, and business insights driven analysis of what's required to truly capture every MWh and enhance overall project AEP at all wind sites.
>>> Enter your details to the right to be the first to receive the full program at launch >>>
Sign up for the brochure now and you'll receive:
Conference agenda and overview of every executive case history, workshop and major stakeholder panel
Gain exclusive access to Early Bird rates and the Group Booking discount codes you'll need to ensure your whole team can learn how excellent O&M can be realized at every level of your business
What's more, we'll send you an e-copy of every industry whitepaper, interview, webinar and infographic we produce straight to your inbox to ensure that you get the latest Wind O&M insights in real-time
Opportunities to participate in the program will close shortly – contact me directly for details.
NEW conference theme: Capture Every MWh!
5 key reasons why attending Wind O&M Canada will allow you to truly optimize and perfect your wind O&M strategy:
WTG component failure, servicing and repair case studies delivered by operators, OEM's and ISP's will demonstrate why certain components have failed and how they were repaired, so you improve your ability to manage unscheduled failures and non-scheduled repairs
The very latest predictive and preventative maintenance strategies that will help you improve maintenance scheduling and resource management to increase MWh and profitability against your budget
Build a Data-Driven Wind O&M Strategy – Learn how to 1) Identify, combine, and manage multiple sources of data (CMS, SCADA, and on-site inspection data), 2) build advanced-analytics models to extract what is relevant for predicting and optimizing turbine performance monitoring and power forecasting; and 3) manage corporate digital transformation
Master O&M contract planning & management for better warranty ROI: Make the most profitable decisions about warranty contract planning, asset management and contract renewal - based on your appetite for risk, company size and WTG characteristics
Optimize O&M resources to improve your bottom line: Receive the asset manager's perspective on how to technically and financially enhance asset management strategies
Check out some of the top speakers we had in 2016…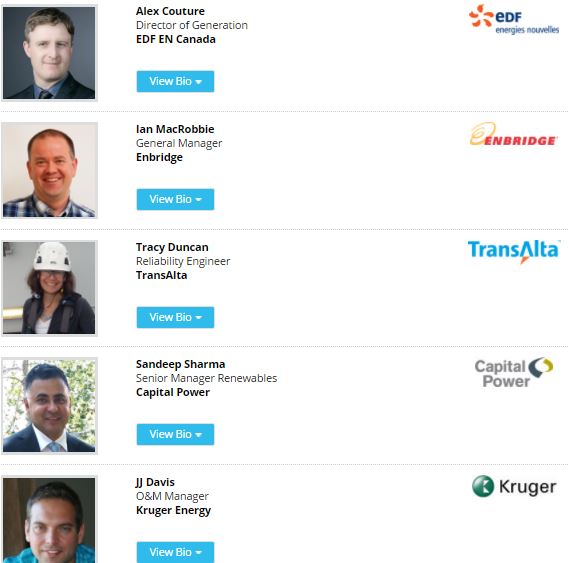 See what it feels like to attend a New Energy Update conference below.


Adam Minkley
Project Director
Wind O&M Canada 2017
New Energy Update


E. adam@newenergyupdate.com
T. +44 (0)207 375 7239 (Direct)
New Energy Update is part of FCBI Energy Ltd, Registered in England and Wales - company registered number 09823824 - 7-9 Fashion Street, London, E1 6PX, UK.
© 2016 FCBI Energy Ltd. All Rights Reserved. | Terms and conditions
Pre-Order the Brochure Now
Just confirm your details below to be sent the full brochure pdf by email as soon as its launched…
See you at the conference!
Kind regards,