Optimise your O&M strategy to maximise asset yield
Inform yourself on how to increase PV yields through asset management, O&M and Energy storage.
Join Europe's Most Influential PV O&M and Asset Management Forum with every key decision maker from European owners involved!
Fill out your details on the RHS for the PV Asset Management & O&M Europe brochure to be delivered straight to your inbox >>>

Just some of those confirmed to attend and or speak are:
Valerio Pelizzi – Director of Asset Management, Canadian Solar
Stefan Mueller – Co-Founder and COO, Enerparc
Renaud Chevallaz-Perrier -Director of Operations at RES France
Francesco Girardi – Managing Director, Bluefield
Jyoti Roy - Associate Director - Engineering and Project Operation, Bluefield
Nacim Ladjouze – Head of Asset Management – France, Sonnedix
Jordi Lopez Francesch – VP of Asset Management, Glennmont Partners
Carlos Rey Micolau - Senior Portfolio Manager, Foresight Group
Fabrice Tencaramadon - International Project Manager, EDF Energies Nouvelles
Edmee Kelsey - CEO, 3Megawatt
Giles Clark – CEO, Primrose Solar
Christian Ahrens – Head of Asset Management – Solar, Aquila Capital
Ingo Rehmann – Managing Director, Greentech
Jochen Schwill – CEO, Next Kraftwerke
Tobias Bittkau - Global Head of Operation Services, BayWa r.e
Steven Xuereb- Head of Business Unit PV-Systems PI Photovoltaik-Institut Berlin




Fill in your details on the right for the full speaker line-up >>>
Testimonials from the last event: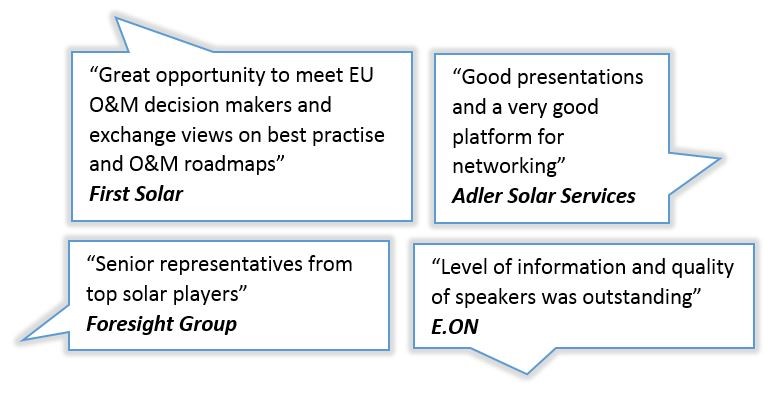 Key Features of PV Asset management and O&M, Europe 2017
150+ Senior Level PV AM and O&M attendees
2 PV + Storage & Cybersecurity Workshops
40% Owner / Operator Attendance
8+ Innovative Exhibitors
2 Dedicated Conference Tracks
Fill in your details on the right for the full speaker line-up >>>
Opportunities to speak/exhibit and attend are now very limited so contact me directly for more information ASAP.
Diana Dropol
Projects Director | New Energy Update
(formerly PV Insider)
E: diana@newenergyupdate.com
T: +44 (0) 207 375 7528



New Energy Update is part of FCBI Energy Ltd, Registered in England and Wales - company registered number 09823824 - 7-9 Fashion Street, London, E1 6PX, UK.
© 2016 FCBI Energy Ltd. All Rights Reserved. | Terms and conditions
Get your brochure here

Fill out your details to get a copy of the PV Asset Management and O&M Europe brochure
Teams already confirmed from: